16 February 2021
22 Website, SEO and PPC trends that will shape 2021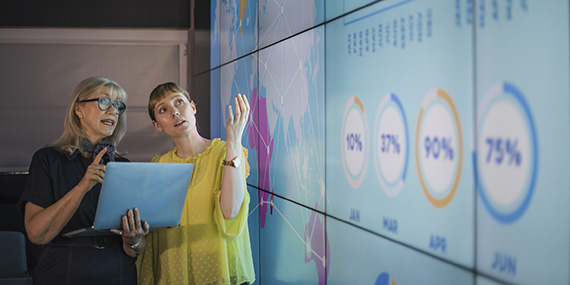 Once the COVID-19 pandemic hit, digital transformation was the only solution for many businesses to remain open and generate revenue. However what was striking, was that as the economy tentatively re-opened, consumer behaviour didn't revert to old habits. Today, it remains an expectation of customers that they can interact effectively with your business through digital channels.
For those who didn't update their business models in 2020, failure to make up lost ground this year may result in falling behind the curve, losing customers and revenue as a result. If it isn't clear enough, immediate action is required to digitally transform your busines this year to maintain your competitiveness in the market.
In this article we'll discuss twenty-two website, pay-per-click (PPC) and search engine optimisation (SEO) trends that will shape 2021, with each of these categories broken down into actionable items that will help you dominate your digital presence and stay ahead of the game and your competition this year.
Websites and Customer Experience (CX)
How customers interact with websites has vastly changed compared to five years ago, and the top performing websites of 2021 are developed differently to those of 2016. In the coming 12 months we expect the following key trends to be adopted by this year's best performing sites.
1. Integrated customer service and more intelligent bots
The demand for bespoke online customer service is on the rise. Website users want instantaneous customer service, and the increasing sophistication of AI driven chat bots is one way to deliver this. AI chat bots have become significantly more intelligent and are now estimated to be able to one third of all enquiries. They also now recognise areas they need to be trained in, as well as integrate into CRM and other third party data platforms to obtain answers, such as expected delivery times.
2. Minimise friction
You should never think of your business website as set-and-forget. Consider it as an ever-evolving work in progress. That means understanding how visitors use your site, by using analytics to track user journeys and understanding where visitors are dropping off due to it being too much effort to take the action that you want.
With user experience and conversion optimisation emerging as growing specialities in web development and digital marketing, it's critical your business isn't being left behind as your competitors become better at getting more leads and sales, from the same expenditure, by having a better online experience.
3. Seniors reach critical mass on the mobile web
The pandemic has forced seniors to become more comfortable with the mobile web and video interactions. As a result the number of seniors using a mobile device and/or making a video appointment hit critical mass in 2020.
If you do business or sell to the elderly, consider how to better facilitate their online experience. As an example, you might support accessibility enhancements such as easy-to-read text, pausing animations, good site contrast or avoid the use of too much colour.
4. The normalisation of video
In the last year people were compelled to familiarise themselves with video conversations, meetings and appointments. As a result, millions of prospects and customers have become accustomed and comfortable with facilitating business services or deals over video.
This year consider how integrating video into your website or application could facilitate more powerful interactions between your staff and customers.
5. 'The new normal' of customer behaviour is a moving target
You'll regularly read in business publications that the pandemic has changed the way our prospects and customers interact with the people and companies they do business with. However, most of the discussion is about how the behaviour change is either permanent or fleeting i.e. that toilet paper hoarding was a fad.
What isn't being discussed is that behaviour instability is the norm for the next 12 months and you simply can't make business decisions based on yesterday's news. So how do we deal with this instability?
In 2021, it is more important than ever to track and use the data from your website and online marketing. In a world where digital transformation is taking place before our very eyes, this data is critical to understand the trends which are taking place within your business.
This data can help you decide what are the weak points of your business, what are the trends for the preferences for your customers and how can you reach them using their preferred method.
6. B2B's coming of age
Historically business-to-consumer websites have been the leaders in terms of innovation around interacting with prospects and customers online, while many business-to-business websites have languished – focused on publishing basic content, while simply adding a phone number and contact form as the way for visitors to interact.
However, 2020 was a watershed year for business-oriented technology including data analytics, marketing/sales platforms and online customer service. These new technologies are enabling businesses from small to large to become more effective at servicing their clientele in a digital world.
This year, B2B business owners need to recognise that the competitive landscape in changing and simply having a website is no longer enough to maintain market share. Customer experience (CX) will be the critical discussion to have to determine what data and third-party platforms can integrated to enhance the experience of prospects and customers.
7. Customer centricity, personalisation and meaningful experiences
Customer expectations for experiences on the web have evolved rapidly. No longer can it be presumed that a business website is a simple source of content and a way to find contact information.
In 2021, there is the real opportunity for customer oriented digital experiences that represent your brand identity, serve customers as individuals and create meaningful experiences. With ever-increasing internet bandwidth and the introduction of HTML5 and CSS3, there is a world of difference in the type of digital experience you can deliver this decade versus the last.
This creates an opportunity for businesses to focus on customer experience (CX). As a specialised field in website development, there is now serious consideration in how to deliver an online experience that prospects and customers want to come back for.
Similar to how businesses can create exceptional experiences in the real world through personalised customer service, in-store experience or specialised expertise, your business is now in the position to deliver the same competitive advantages online.
8. Online, the customer now comes first
Think about what a business website typically looks like. They usually convey the message, "We do something, here are our products and services, and this is how you can reach us".
Applying Marketing 101 is a subtle digital transformation that's happening now, particularly affecting the language and navigation of business websites.
In 2021 the best performing websites use headlines to deliver succinct value propositions as to why the customer is better off using their business and website navigation is based on identifying the customers problems or the outcome they are seeking.
As an example, for a lawyer's website, instead of having a services tab with marriage dissolution as a listed option - a modern site would offer a customer-oriented dropdown stating "I need help with…." and one of the options is 'ending my marriage'.
9. Customers are choosing online vs offline
The pandemic forced the hands of many business owners to deal with customer online, even if they weren't setup or willing to do so.
Whether they operated exclusively offline or a combination of both online and offline previously, to survive and keep up, businesses have had to create and/or expand their digital presence.
While virtual meetings, consultant calls, and appointments are still taking place online while the pandemic grinds on, we don't anticipate things going 'back to offline normal' once the pandemic is a distant memory.
PPC and digital advertising
This next section will discuss the trends under the category of pay-per-click (PPC) and digital advertising.
10. Using social media to leverage and increase sales
Social media has become integral when it comes to driving and increasing online sales. This was a growing trend in recent years, however, has been further fast-tracked as a result of the pandemic. Despite statistics claiming only 3% of sales to come from social media, these numbers are on the rise as more and more people are spending more time on their smart devices.
11. Paid search is still #1 and is not changing any time soon
Paid search continues to be the dominate force of paid website traffic and is yet to be displaced by social media advertising. Paid search generates increased revenue for most businesses, so long as PPC ads are set up and run correctly.
12. Apple's privacy settings make remarketing more difficult
Recent IOS updates restrict data collection from Apple devices. This restricts the power of PPC and other advertising tools and makes remarketing more difficult. To prevent any restriction regarding ad delivery, it's essential to ensure your website is verified - ensure to do this as soon as possible.
13. Digital advertising costs are likely to be more expensive
Due to the recent IOS updates, as discussed above, digital advertising costs are likely to be on the rise. You may wish to use other PPC methods; however, due to changes in data regulation and restriction, prices are likely to rise regardless of the method you choose due to an increase in data limitation.
14. Visual assets and responsive ads
Website analytics continues to show greater interactivity by users responding to images, video, and audio, compared to text. Therefore, spend more time considering how visual assets resonate with your audience.
The same applies to responsive ads; these should ideally be targeted directly to your audience, and be both visual, and engaging. If this formula is applied, you can expect an increase in revenue and overall engagement throughout your website and business.
15. Less manual control and greater attention placed on automatic bids & placements
With the loss of data to target ads, businesses are relying heavily on automatic bids and placements. Instead, driven ads are preferred, but will require tailored intervention and adjustment for maximum results.
Businesses should target and direct their attention to automatic bids, providing a more generic but expanded audience; this is the way forward in 2021.
16. Big tech and optimised thirty party data
Big tech focuses on third-party data and privacy. As a business, you should focus on obtaining third-party data, whether email addresses, names, or other contact info. This allows you to deliver customised content, proven to drive results, whether selling a digital product or shifting to the digital environment as a result of the coronavirus. You must, however, stick to the privacy guidelines, operating ethically and legally.
SEO
The final section will explore SEO trends in 2021, beginning with an all-time classic, user experience.
17. User experience
Businesses must consider their user first to deliver an optimal user experience. This is especially true for mobile devices, increasing accessibility, simplicity, and creating elements to suit your audience directly. Furthermore, Google is beginning to prioritise mobile optimised sites, so it's essential to stay up to date for increased rankings and general SEO.
18. The prioritisation of mobile
Over the last few years, there has been a growing trend towards mobile use when visiting a website. This is becoming more popular, with Google and other search engines prioritising those who are fully optimised. If your website is not fully optimised (image size, formatting, load speeds etc.), then your site will not rank well throughout 2021.
19. The increase in long-form content
The E.A.T guidelines, that stands for expertise, authority, and trustworthiness are a key determining factor towards Google's search engine rankings. However, now, it has been found that longer-form content better accommodates to these guidelines, typically anywhere above 2,000 words, covering everything there is to know on a certain topic.
20. Increased popularity of voice search
The percentage of households who will own a smart speaker by 2022 is estimated to be 55%. Therefore, it's important to target keywords and phrases that are used in everyday conversation. Doing so optimises your page and posts for voice search, increasing your likelihood of appearing in voice search results; an upcoming trend for the next few years.
21. Video is as popular as ever
Creating video content has never been more popular. However, video content is not necessary for all niches. But if video is relevant, e.g. toward younger audiences or difficult to explain topics, then video will increase the SEO of your page, thus increasing views and potentially driving additional revenue.
22. Image optimisation
Finally, SEMrush also mentions the importance of optimising images on your website for search engines; you should optimise all images. This includes appropriately naming files, using high-quality, low file size images, and making these clickable where possible.
Next steps for your digital transformation
As outlined, a significant amount of digital transformation activity will take place for Australian businesses this year.
While some business owners will opt to close their eyes and ears, ignoring the consumer trends and demands that are happening right now - it's business owners like yourself who will succeed and relish at the prospect of growing their business at their competitions expense.
Make no mistake, we understand that many of the trends require data, strategy and expertise to execute successfully - which is where the team at Bright Labs fit in.
Whether it's setting up data tracking, updating your website for a better customer experience or stepping up your online marketing game, feel free to setup a complimentary consultation with the Bright Labs digital strategists to formulate a customised digital transformation game plan.