07 December 2020
Grants and Incentives available today to digitally transform your business
Digital transformation can be difficult and expensive, however there are government programs to help. Find out what is available to accelerate digital transformation for your business.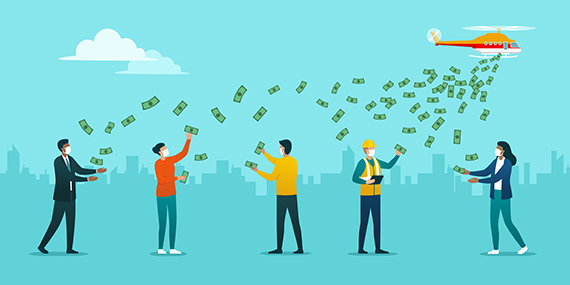 "Companies have accelerated the digitisation of their customer and supply-chain interactions and of their internal operations by three to four years. And the share of digital or digitally enabled products in their portfolios has accelerated by a shocking seven years." McKinsey Executive Survey, 2020
While devastating from an economic and health perspective, the global pandemic that washed over us in 2020 dramatically accelerated the digital transformation of business.
The acceleration is not limited to internal structural change related to processes and procedures. The way prospects and customers research and interact with businesses has also undergone a revolution.
Who would have thought just one year ago that it would be standard practice to negotiate a business-to-business sale through Zoom, present to stakeholders working from home, with the contract being remotely signed using Docusign? Quite simply, many prospects would have been resistant to the idea pre-pandemic. Now, it's far less taboo.
While easy for some businesses, digital transformation can be difficult or expensive for others. With the right support, it can be easier.
What grants and incentives is your business is eligible for?
At the beginning of the pandemic, Governments at all levels across Australia rushed to roll out business support programs, grants and incentives. The goal was to help businesses adapt and survive with the new reality.
As the roll out was relatively rushed and there was so much happening, a lot of these grants and incentives slipped under the radar for many business owners. To help, at the bottom of this article, we've put together a comprehensive list of business support programs that were offered, whether they are still available and how they can help your business go digital.
Government incentives are available for digital transformation and innovation
Government incentives supporting digital transformation generally fall into three categories. Instant asset write-offs available to most businesses, grants supporting transition to innovative business processes and targeted grants to specific sectors or types of employees (i.e. women returning to work).
With the ability to take advantage of multiple grants or incentives, make sure to understand what your business may be eligible for and develop your digital transformation strategy factoring in how to meet the criteria.
For example, you may determine a new intranet that integrates with your customer database (CRM) is required to support employees working remotely. After reading the criteria for a 'innovative business practices' grant, you may determine with a touch more innovation in the strategy, the business would be eligible for additional funding.
Ideas on how to use grants and incentives for digital innovation
Every business is unique and there is no one-size-fits-all approach to turning a traditional business into a digital leader. However, consider these ideas on using technology to increase productivity and job satisfaction of your team, or better serve your customers and prospects.
Business websites
Does your current business website support more than window shopping products or services? Do you know how prospects and customers use the site on both desktop and mobile, and are you maximising the ability to collect data and build an online relationship?
Whether you sell online or not, your website needs to give users both unique experiences based on where they are in the purchasing cycle and also support pushing them further down your sales funnel, by collecting their data and providing them with additional value.
Intranet
Would your employees, contractors and other stakeholders be more productive with a centralised online location for processes, digital resources, collaboration tools and customer data? Do you need a way to combine data from multiple sources to provide strategic analysis?
Traditional businesses are setup so that most resources are only accessible from within the bounds of the office, and productivity can suffer as people increasingly work remotely. Internal collaboration may also suffer without the introduction of appropriate tools to make up for the lack of face time.
An intranet or extranet can be extraordinarily flexible in how it's setup to meet your business needs. The configuration should make it easy for your entire team, no matter where they are, to have fast and secure access to all the key resources they would have if they were at your office.
Should you use a platform like Microsoft Sharepoint, it's possible to integrate data from multiple sources so that you create dashboards or analyse data without having to manually export and combine data from multiple systems.
Virtual office
Technology from the last century is now limiting the flexibility of your workforce, while no longer meeting customer expectations. The result is that on-premise platforms, like pbx phone systems and locally installed customer databases, are on the way out.
Dropping a phone call from a customer or prospect to a colleague's voicemail is no longer good enough. Customers expect that your team know who is available and that they can speak with someone who can help them without having to leave a message.
Collaboration tools like Microsoft Teams and Slack also ensure your team no longer need to waste time finding out if a colleague is available to take a call, reducing wait times and wasted time.
Now consider modern phone systems, like GetNext's Fusion Telephony, that merges a traditional phone system into Microsoft teams. This enables staff to take an inbound call for the businesses, see if their colleague is available and transfer the call. All seamlessly managed from any device, without the customer knowing that the receptionist is working from the airport, while the person they need to speak to is on the other side of the world exhibiting at a conference.
Hardware and devices
Often the limiting factor for flexible working is fully depreciated hardware, that staff are using as their primary work devices. The classic example is the desktop phone and computer, hard wired to the internal networks.
Without access to devices that facilitate mobile working, the benefits from all other digital transformation activities are limited.
The instant asset-write off incentives currently on offer are a great opportunity to make necessary upgrades. Not only will this give staff the ability to work remotely, it also gives the business the flexibility to use in-house technology in the presence of customers and prospects at their office, in the board room etc.
List of government grants and incentives that support digital transformation
National
Instant Asset Write-Off (Current)
Consider if you are eligible to use the instant asset write-off to build a new website, e-commerce store or marketing automation system. At the very least you'll be able to use this business incentive to purchase new devices for your staff, to assist them working remotely.
Australian Small Business Advisory Services - Digital Solutions (Current)
This service provides small business with low cost, high quality advice on a range of digital solutions. There is also support for improved access to digital training for business and staff.
Victoria
Small Business Grants - City of Melbourne (Current)
Grants of up to $30,000 are available for eligible businesses with less than 20 employees, who have innovative proposals to grow their business (or start a new business) or to tap into export markets.
Small Business Digital Adaption Program (Current)
Business Victoria is accepting applications for the digital adaption program until the 28th February 2021. The program assists Victorian businesses trialling and adopting digital business management tools that adapt websites, help transition to eCommerce business models and manage finances.
Click for Vic (Current)
Specific to the Tourism industry, Click for Vic is a state government initiative promoting online ordering of products offered by the Tourism industry. The program doesn't provide funding to businesses, however provides eligible businesses free promotion to a wide audience.
Quick Response Business Grants - City of Melbourne (Ended 18th Apr)
For businesses operating from the City of Melbourne, grants were offered for $5,000 to investment in online and eCommerce activities or $2,000 for training and development. With the COVID-19 specific grants having ended, it is best to apply for the annual Small Business Grants program.
Business Support Fund (Ended 23rd Nov)
Grants of between $10,000 to $20,000 were on offer by Business Victoria to small businesses in Victoria, based on annual turnover. While the third round of grants ended in November, keep an eye on the Business Victoria website if future rounds are announced (particularly if new COVID-19 restrictions are enforced).
New South Wales
Returning Women to Work (Current)
A one off grant of $5,000 is available to assist women returning to work after a period of absence. Why does this qualify to be in our list of digital incentives? The grant can be used for purchasing technology to support the work of the individual, in addition to paid training related to any digital platforms they may need to use as part of their work.
Digitise Initiative - COVID-19 Quick Response (Ended 1st June)
Open to arts and cultural organisations in NSW, the Digitise Initiative provided grants of between $500 and $10,000 towards projects resulting in digital programming outcomes and digital and online skills development.
Can Bright Labs help with the digital transformation of your business?
Once you have figured out the grants or incentives your business is eligible for, we would be happy to work with you to develop a strategy to meet the eligibility criteria while identifying how to get the best results from your digital transformation.
If you'd like to find out more, send us a message.