27 March 2019
Service Design - how it relates to CX and UX design
UX, CX and SD - all three adopt a human-centred approach focusing on the human experience, and the quality of product or service encounters as the key value for success. That being said, it's essential to recognise their differences.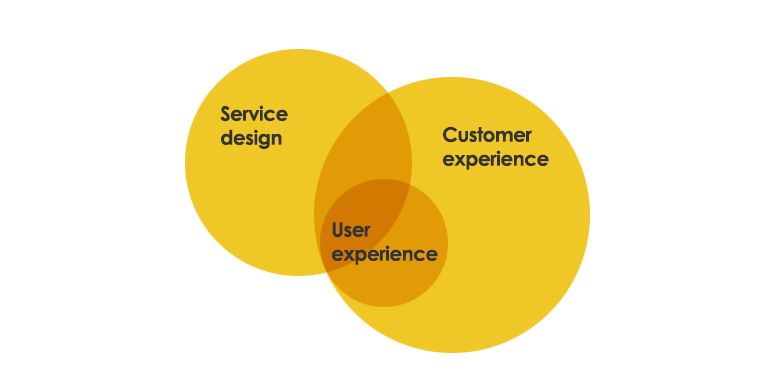 What are they?
User experience (UX) is product or service-specific. It refers to the user's experience with the navigation, usability and interface design of a specific product or service.
Customer experience (CX) is a broader concept than UX. It encompasses the user or customer's experiences with all channels and products within the same brand.
Service Design (SD) is multidisciplinary. It considers interactions across all channels and touchpoints not only from a customer's perspective but also from an organisational one.
In a nutshell, UX focuses on the design of a single customer touch point, CX focuses on orchestrating all touch points through all channels, and SD considers all channels and touch points, but also from an organisational perspective.
The differences
| | | | |
| --- | --- | --- | --- |
| | The Focus | The Aim | Key Components |
| UX | The design and development of a single customer touchpoint. | To make the specific touchpoint easier and more enjoyable to use. | Usability, information architecture, navigation, comprehension, learnability, visual hierarchy. |
| CX | The design and implementation of all touchpoints across all channels and the entire customer journey. | To increase overall customer satisfaction, loyalty, and advocacy. | Customer service, advertising, brand reputation, sales process, pricing, product delivery, each product's UX. |
| SD | The same as CX, but also the behind-the-scenes activities that enable those experiences to be delivered as intended. | To holistically improve service quality and the interaction between the brand, its employees and customers. | CX, operational model design, planning/organising people, design thinking methodologies, infrastructure. |
The importance of each
User Experience: The narrowest concept, UX, facilitated by good UX design, refers to your end user's perception while they interact with your product or service. Although UX is product or service-specific, failing to fulfil a customer's needs within a single touchpoint will likely affect their attitude towards the entire brand. Positive UX leads to customer retention, while negative UX may very quickly repel customers.
Customer Experience: However, in isolation, ensuring good UX for each product and service is not necessarily sufficient. To achieve sustainable customer satisfaction, you need consistency between UX and CX. Customer retention is almost certain to suffer if the multichannel interactions that a user has with your brand are not consistent at each touchpoint (both online and offline). This is where CX steps in and orchestrates all touchpoints through all channels. Measured by a brand's utility, usability and emotional satisfaction, CX can differentiate or improve UX, hence can make a real difference to business and brand performance.
Service Design: Without good service design, customer experience suffers. This is becoming increasingly true now that we've gone further into the age of the customer where satisfying customers matters more than generic business goals.
Ryan Hart from Forrester Research raised an indicator of service design misalignment being "anytime an organisation puts the onus back onto the user for not being able to properly navigate a service".
Realistically, this predicament can be avoided. Prospective organisations (and those who understand the relationship between CX and SD) will be wise not bring to market a new product or service until they have analysed and understood how it impacts customers throughout the entire service journey. This safeguards the company against future service design misalignments and barriers to achieving positive CX.
Uses and examples
| | | | |
| --- | --- | --- | --- |
| Example | UX | CX | SD |
| (A) Buying a mobile app that edits photos | The customer finds the interface confusing and cannot find the features they wanted to use. | The customer rings the helpline; a friendly employee explains how to access the features and offers some premium features for the inconvenience. | The brand focused its resources on perfecting their customer feedback and reward systems. |
| (B) Booking tickets on an airline's website | The customer finds the interface self-explanatory and efficient, allowing them to book the perfect flight in just a few minutes. | At the airport, the check-in booth is understaffed, the line in unnecessarily long and the attendants are abrasive. | Staff were allocated to maintaining their booking systems at the expense of overlooking their check-in and security protocols. |
Credit: Studio by UXPin
Example A is a good example of how CX can play an essential part as users resort to customer service when the UX of a product or service do not meet their needs. Although the app's UX was confusing and poorly orchestrated, the customer's interactions with the other aspects of the brand (the helpline and free features) were redeeming and may have been sufficient to retain the customer.
Example B illustrates the opposite. No matter how self-explanatory or efficient the app's UX was, the other services damaged the brand's overall CX, and the ultimate result was an unsatisfied customer. As stated above, success requires consistency between UX and CX.
But where does SD come in? Well in addition to the design and implementation of interactions that affect UX and CX, service designers are tasked with designing the 'behind the scenes' elements (the last column) that ensure all of the above experiences are delivered as intended.
Conclusion
It is likely that Service Design will gradually subsume the field of User Experience as more companies take a broader view of how digital touchpoints fit into the overall customer journey. As for the overlap between Customer Experience and Service Design, many have envisioned this growing as companies learn to integrate the two activities.
By definition, all three concepts are very much interrelated and will continue to merge as the digital world evolves.
A forward-thinking company will continuously perform a balancing act and aim to satisfy its customer base by fulfilling all three concepts.