28 December 2022
15 UX tips to supercharge your eCommerce store
If you walked into a shop, the aisles were a mess and the shop attendants ignored you, would you buy anything? Probably not.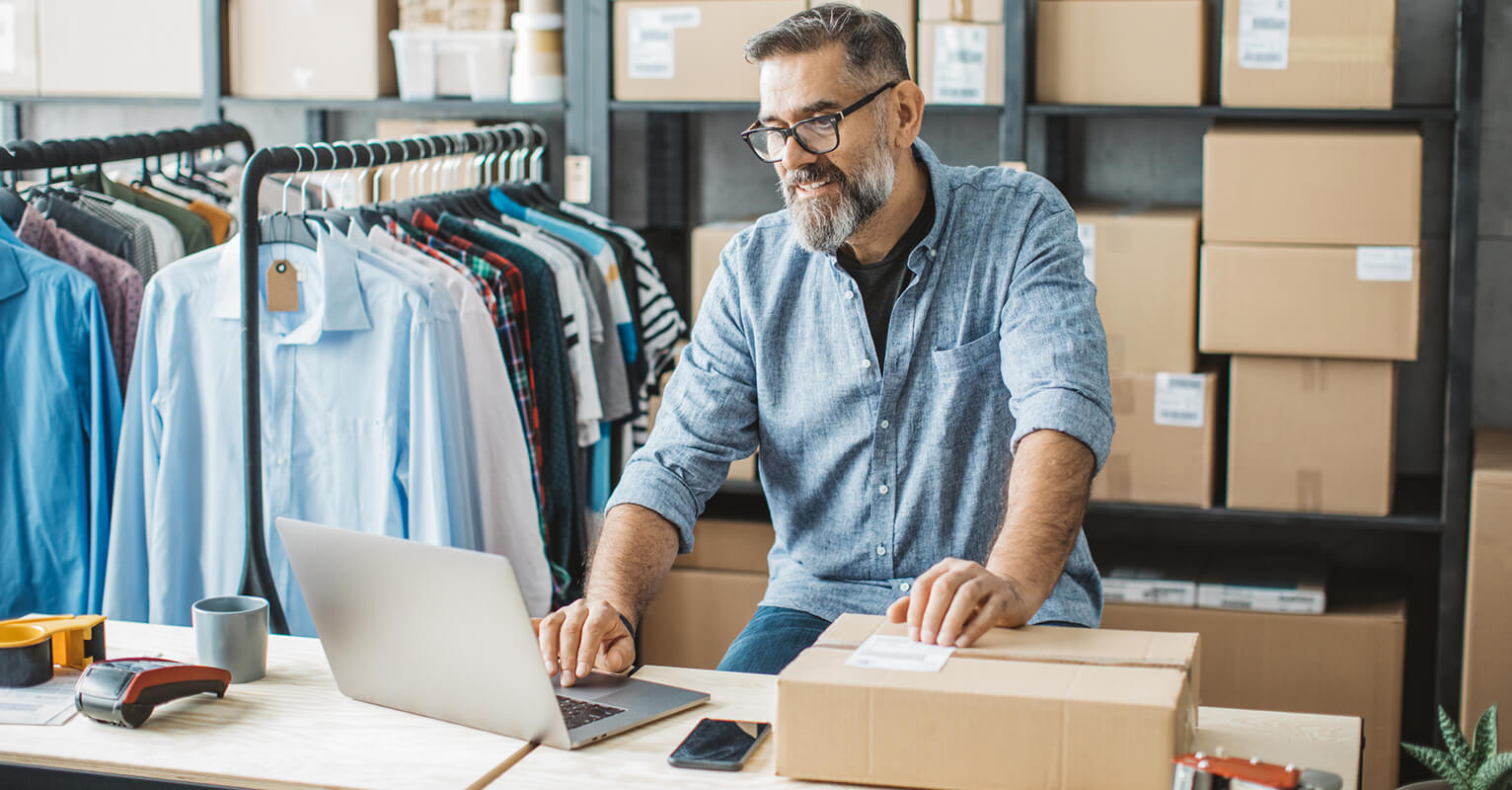 The same is true of eCommerce stores. If your site isn't designed to provide a positive, convenient user experience that entices visitors to view and purchase your products it's unlikely you'll convert many visitors to customers.
The key to achieving ecommerce success is prioritising user experience (UX) at every stage of website and ecommerce store design. To help ensure your website is a selling machine we've come up with 15 UX tips that will prime your ecommerce store for customer success (and sales).
1. Place your brand front and center
The number one reason Australian customers buy a specific product (besides price and quality) is because they trust the brand, according to Salamat Marketing. Your brand is an asset that should be used - it tells customers what to expect from your products and positions your offering in the market.
When designing your eCommerce store make sure your brand's design cues, colour themes and typography are front and centre so customers know who they're dealing with.
2. Build SEO into your landing pages
"If you build it, they will come."
When Kevin Costner said this in Field of Dreams he definitely wasn't talking about eCommerce stores. Building the store is the easy part - making sure people can find it is much harder.
One way to get your store in front of people is to include a strong SEO strategy and SEO keywords relevant to your offering. That way prospects are more likely to find you on search engines like Google and more likely to purchase when they do.
3. Make sure your site loads FAST
One in four visitors would abandon a website that takes more than four seconds to load and almost half of people won't revisit a website if it performs poorly, according to Loadstorm.
To avoid losing customers before they even view your site make sure it loads as quickly as possible - less than a second is a good goal to aim for.
4. Simplify your site's navigation
If your website is confusing and difficult to navigate visitors will leave faster than you can say 'lost opportunity'. To stop that happening ensure your eCommerce store is laid out intuitively with well-defined product/service pages and keep navigation elements the same across your website.
5. Personalise the shopping experience
When people visit your website the goal should always be to simply give them what they want. Whether they're looking for specific products or information before they buy - it's your job to get the right stuff in front of them.
Adding a section that's tailored to individual shoppers such as 'shoppers that purchased this also bought' or 'similar products' could be a great way to present more relevant information that drives shoppers to a purchase.
6. Provide a search function
If your site is selling a few simple products then customers who are searching them should be able to find them easily enough, provided your website features quality navigation.
But if you've got an extensive product range with hundreds or thousands of different items, site visitors may not be able to find what they're looking for. A well-presented, usable search function can help site visitors quickly find what they're looking for so that they stick around (and buy).
7. Enable filtered searches
Simple search functions work if you've got a few dozen products, but what if your store stocks hundreds or even thousands?
Filtered searches can help site visitors narrow down their search terms to help them find what they're looking for more quickly (and reduce the chances that they leave your site before making a purchase).
8. Cater to browsers and window shoppers
Almost half of all online shoppers shop at least once a fortnight, according to a 2021 IPC survey. This tells us that some shoppers may not be looking for something in particular, but browsing or window shopping for fun or out of habit.
It's important to cater to these window shoppers with user experiences that encourage browsing. This could include clear category options that display similar items for browsing and best sellers or new products sections.
Tip: Look to secret number five 'personalise the shopping experience' to make shopping even more appealing for browsers.
9. Make sure your site is mobile-friendly
Nearly three out of every four dollars spent on eCommerce sites comes from mobile shoppers, Oberlo data shows. That means if your eCommerce shop isn't optimised for mobile, you could be missing out on the majority of potential buyers.
To optimise your site for mobile visitors make sure its design is responsive, use optimised images, reduce heavy content and pop-up elements.
10. Present your items thoughtfully
If you've ever walked into an Apple Store you'll notice the decor is premium and products are carefully displayed with plenty of space in between them. This, quite successfully, creates an impression of Apple's products as a premium and luxury good.
You can create a similar effect with your eCommerce site. The way you space, photograph, present and describe products on your website will ultimately affect how customers perceive them and how likely they are to buy. To make sure you get this balance right, spend time thinking about how you want your products to be portrayed - and how your site can help create the right impression.
11. Make sure product information is easily available
There are three stages in the buyer journey leading up to a purchase. Problem recognition, information gathering and evaluating solutions.
If someone is visiting your eCommerce store they've recognised a problem and they're now looking to gather information and evaluate possible solutions. You need to provide them with the right content about your product in an easily accessible way so that they can move forward with their decision.
12. Use social proof to build trust
Around 81% of online shoppers feel concerned when shopping on a website that they're not familiar with, according to BuySAFE. That means it's your website's job to convince visitors that they can trust your business.
One of the most effective ways to do this is using social proof, or in other words displaying good reviews or positive social media comments. This can include reviews for individual products, positive testimonials about your business, or user accounts of positive experiences.
13. Reduce choices and make CTAs unmissable
Think of your website as a funnel. Up the top are your landing pages where visitors usually arrive, and at the bottom is your checkout - the point at which visitors make a purchase.
Your website's goal should be to funnel as many visitors from the top to the bottom culminating with a successful purchase. One of the best ways to do this is to use clear, visually appealing calls to action (CTAs). But beware - using too many CTAs and providing too much choice is likely to confuse visitors and scare them off.
Instead focus on just one or two goals with your CTAs and display them prominently on your eCommerce store so that buyers can't miss them.
14. Speed up and simplify checkout
The last thing you want to do is fumble just before the finish line by offering your customers a shoddy checkout experience. So make sure yours is as streamlined as possible. Here are a few tips to simplify and speed up yours:
Autofill customer information for returning visitors.
Reduce the number of form fields (assume your customers are time-poor).
Accommodate different payment methods such as credit card, bank transfer and PayPal.
Reduce extra costs such as shipping if possible. High extra costs at checkout are the most common reason for cart abandonment, according to research from Baymard.
Last of all you should remove anything from the page that may distract or confuse shoppers and make the process as easy as possible.
15. Request reviews
User experience doesn't have to finish after visitors purchase! Once the buyer has had time to try your product it's a great idea to follow up and ask for a review.
Provide a link that the buyer can use to post their review to reduce friction and make it as easy as possible. The action of writing positive words about their experience will not only encourage other buyers to purchase, but reinforce the good experience in their mind and help them remember your brand for next time.
Better UX = More sales and happier customers
Without a well considered user experience strategy your website will underperform and you'll struggle to consistently grow your online business.
If you need help turning your eCommerce site around, get in touch with the experts at Bright Labs. We specialise in crafting eCommerce experiences that convert and keep customers coming back again and again.